Ferrule Printer, Ink Ribbon, PVC Tube, Adhesive PVC Tape
---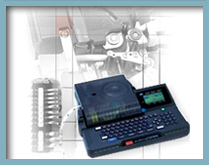 Ferruling stands redefined with advent of modern ferruling techniques. Ferrule marking needs special attention not just for better look-and-feel but also for distinct clarity, ease of electrical & electronic maintenance and faster processing. We at
TSPL
, standardized on printed ferrules at a time much earlier than all others. At the same time, as promoter of modern technology, we gradually established ourselves as distributor and service provider of Hi-tech & Fast Ferrule Printers, also known as Lettering Machine. These printers are brainchilds of
Max Co. Ltd.
, Japan and are marketed by their Indian counterpart
Indomax
Today there is a large user base of these machines in Eastern India due to our endeavor.
As part of our commitment of continual support for products we sell to our customers, we also supply the various consumables required for the Ferrule Printers like PVC Ferrules, Ink Ribbon, Marking Tapes which passes through strict quality checking procedure.
We also provide maintenance and service for the printers with competent hand of some trained service engineers.